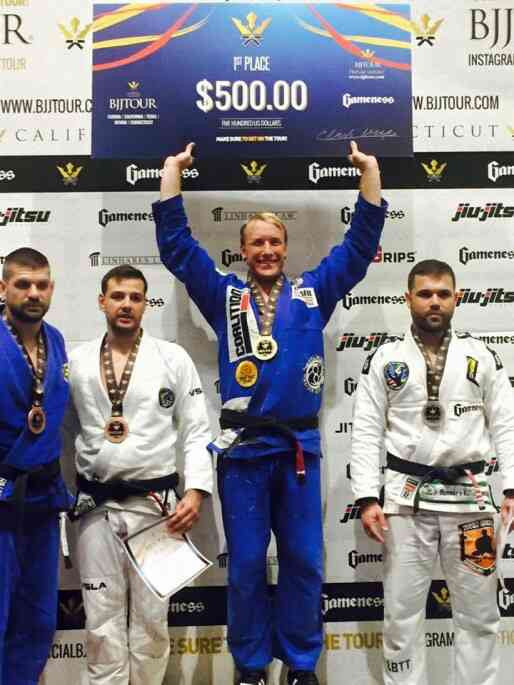 I competed in two tournaments in the past two weekends and I'm really starting to feel my rhythm build towards the IBJJF Pan which will be coming up in a week and a half. First came the BJJ Tour Florida two weekends ago and then the UAEJJ New York Pro this past weekend. Besides a couple missed/cancelled flights both of the trips went fairly smoothly. I brought home a gold from Florida and $500 dollars in prize money in the Under 208lb Black Belt Pro Division and a silver from New York in the under 187lb Black Belt Pro Division. My beautiful girlfriend Keila accompanied me and supported me on both trips and we had an awesome time.
In Florida I had two tough fights in my division, one against Vitor Schlosser and the second against Diego Gamonal. The fight against Schlosser was very tough and very close. I came up on two points from a fake guard pull to take down which made up the deficit of a sweep that I had suffered in the beginning of the match and I ended up winning on advantages. During one exchange I tried to jump a flying closed guard which resulted in slamming my mouth into Schlosser's forehead which opened a gash in my mouth which you can see in the picture. The final against Gamonal was also a very tough match in which I was losing for the majority of its duration. I have seen Gamonal fight for a long time and I have a lot of respect for him and knew right from the beginning that he was no pushover. I suffered to sweeps in the beginning of the match and was behind by four points until managing to return one sweep leaving the match at 4-2 for my opponent. During one of my attempted Berimbolos, Gamonal twisted his knee and needed a medical timeout but decided to continue. There wasn't a whole lot of time left at this point. Gamonal must have figured my strategy would be to pull guard and attempt to sweep him to tie up the score because he began to pull guard himself at any given opportunity. I knew my only chance to win was to pass and passing being my strongest part of my game I went straight to my favorite sequence of moves and was able to secure the sidemount for the three points I needed right in the end of the match. The final score was 5-4 and I came away with the gold medal and the $500 in prize money.
In the absolute I came across another really tough competitor and former training partner of mine, Victor Silverio. We fought for the first time last year at the IBJJF New York Pro in which he was able to defeat me by 2 points earned from a sweep. I decided to pull guard on him this time instead of fighting from the feet like I did in our last fight and he was able to almost get a pass forcing me to turn my back. He was able to put the hooks and get his four points but then I was able to escape and answer right back with a sweep earning myself two points of my own leaving the score at 4-2 and that was how it stayed until the buzzer. He had defeated me by two points again but it was an exciting fight and I look forward to facing him again. This fight highlighted again something that I have to work on which is escaping the back position without giving up either the choke or the four points. When I first got to black belt I lost some matches by submission because my back choke defense was weak. Now I am defending the choke and escaping well but I am giving up four points in the process and this is something that I am working on a lot in training now.
The following weekend I travelled out to Brooklyn, New York City to compete in the UAEJJ New York International Pro. First I came up against Robson Gracie Jr. and after almost getting a deep armbar on him in the beginning of the match I was able to pull off an 8-2 victory on points from a sweep and two guard passes. The final was against Murilo Santana who is someone I have been a fan of for a long time. He pulled guard on me in the beginning of the match which is good for me but I wasn't able to force him into my preferred positions. He was able to pull me into a half x guard and I tried to counter with a back step escape to a diving berimbolo but ended up on the bottom. He came up onto my weaker side of my half guard and was able to get into a strong smashing position. This is something I was aware that I had to avoid but was not able to. From that point on I did a lot of struggling to try and recover to no avail. This is one of the reasons I lose so much weight to fight at light weight in big tournaments. When going against elite level athletes at the lower weight classes I have the strength to recover from bad positions. With Murilo I was not able to create space for the life of me. Still, I always improve from every competition experience and I am very excited now to drop to Middleweight for Pans next week and take to the mats again after the gold!
Stay Tuned!! Osssss