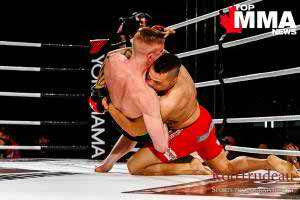 As human beings, we are naturally built to find ways to make things EASIER for ourselves.  This innate tendency has allowed our species to not only survive, but to prosper in a world full of predator and natural dangers.  We find shortcuts, we exploit them, and we grow as a result.  However, when it comes to training for maximum success in mixed martial arts, this natural tendency to find shortcuts to our goal/outcome whenever possible is not desirable.  Working harder, pushing your body to new limits every workout, and continually finding yourself completing tougher workouts will result in you becoming a stronger, faster, more powerful MMA athlete, capable of making better decisions even as the minutes of a match pass and your opponent tires.  Let's look at a few ways we can make our training more difficult, resulting in greater results.
Add Weight
When you're training with any kind of resistance, you should be finding ways to continually add weight.  Move more weight, and you are recruiting more of your muscle fibers. The healing process in the days after the workout results in your muscle growing back bigger and stronger.  Now, you don't have to pretend you're a powerlifter and bench press 3 plates per side.  However, you can add the 1 or 2.5 pound plates when you train.   You can add chains to provide a progressive resistance when you bench press, squat or deadlift.  And you can move on to heavier medicine balls or kettlebells when working on your core movements.  Remember, once your body adapts to a certain workout with a particular weight, no more progress can made until you find a way to push harder.   You've grown and adapted – now you have to find a new challenge if you wish for that growth and adapatation (read: improvement) to continue.
Double Unders
Jumping rope is a great way to increase your stamina, lower body strength, and improve your balance and core strength.  However, you can make this exercise more effective, and require more of your body, by completing two laps of the jump rope per each jump you take off the ground.  Gradually work your way up from 1 to 2 repetitions, as this can be a tricky movement, balance-wise.  Alternate single and double jumps until you get the hang of it.  Jumping rope is one of the best activities you can use to make gains in the gym.   Using double unders makes jumping rope much harder – and much more effective too!
Find a training partner
Training with a buddy can be a great way to push yourself to new levels you didn't before think possible.  You'll have a spotter on hand to keep the weights from falling, and to keep your balance and form in check.  You'll have a friend to chat with between sets to keep the workout interesting, and to ensure you don't leave the gym before you've put in enough time.  Finally, you'll have that slight boost to ego that comes with training alongside a peer.  You can't let him get that extra rep – you'll find a way to dig deep and push yourself to new levels of weight used, or repetition completed.
Move faster
Everything you do – do it faster.  If you have found a standard jogging rate that you enjoy, you should bump up the speed another .5 mph.  If you get done with your 100 repetitions of an exercise in 90 seconds, work your tail off to complete it in 75 seconds.   Walk faster between stations.  Move your core faster and with a more deliberate motion.  Your body will adapt, and this quicker pace will become your new normal.
Shorter rest periods
Another way to force your body to do more – in less time – is to reduce the amount of time you rest and recover between circuit training, drill, or weight lifting sets.  Simply changing your standard 60 second break to 45 seconds can result in a situation where your lungs are forced to work harder, moving more air, resulting in greater aerobic capacity on your part.  You'll develop better stamina which will serve you well as your next match drones on, and your opponent begins to tire before you do.  Shorter rest periods in training result in faster mental response deep into fights, not just the ability to keep fighting when the other man tires.
Ankle weights
You might think ankle weight use is reserved for elderly people making their morning power walk at the local shopping mall or retirement community.  Actually, the use of ankle weights is an excellent method for forcing your body to move like it is heavier, causing your lungs, legs and other muscles of the body to work harder on a continual basis. Once you remove the weights, you will have a new burst of speed, as the constraints of the added weight will be removed.  Think of a man that weights 300 pounds who goes on a diet.  Suddenly he weighs 200 pounds and has an amazing spring in his step because his frame is carrying a much smaller burden than he's experienced before.  You'll enjoy this same benefit, suddenly becoming faster and more elusive once you remove the ankle weights and get in the ring!
Train in a new gym
We all develop some habits when we do the same thing over and over.  Whether or not we realize it, training in the same facility month after month, year after year, will allow us to develop some "efficiencies" or shortcuts to completion of training activities which are actually causing a results shortfall.  Enter a NEW gym, train on NEW equipment with NEW people, and you'll begin seeing some new results.  You can even apply this to your cardiovascular training – running in a new place will result in your body working in new, minor ways that you may not even realize – jumping over previously un-encountered curbs, making turns and cut your body isn't accustomed to, etc.  However, the result will be a new and unknown workout, which leads to new results.  Remember, the best workout for you is one that you're not currently using!
Make a movie
Recording a video clip of your workout can be a great workout aid to see where you are taking shortcuts, making mistakes with forms, and generally not pushing yourself as much as possible.   Back up your mobile device, empty the video to make plenty of room, and record 20 or 30 or 40 minutes of your training.  Are you standing upright?  Are you stopping at ten reps when you have fifteen in you?  Are you leaning?  Are you more tired than you should be at some points?  Does your execution lose proper form as you tire?  If so, then using video analysis of your workout will help you to realize these weaknesses.  You want to address them now, not when you're matched up against a more prepared opponent!  Look at the video yourself, and/or have a buddy analyze it.  Be honest and humble, and don't cut yourself any slack.  Look at that video and learn how to train harder, which is smarter for the mixed martial arts fighter.