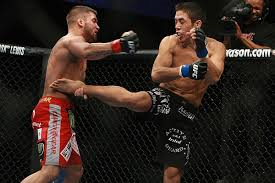 Many a great fighter, with superior speed and skill, has been bested by a lesser opponent with a greater amount of stamina. As fights go on, round after round, both fighters experience a loss of stamina and energy as their bodies are pushed to the limit. The amount of conditioning they enjoyed going into the fight, as well as the way they manage their energy during the fight, will decide how they feel in the closing minutes of the match. If you want to increase your chances of being the last man standing in your next fight, you may want to apply these four techniques for increasing your fighting endurance.
Improve your technique
First off, you have to make sure your punches and kicks are executed with perfect form. As you may already know, perfectly thrown strikes and kicks exert the least amount of energy from you, while delivering the greatest possible amount of energy toward your opponent. If you want to exert the least amount of energy possible while punching, while hitting the hardest, then you are going to want to execute clean, direct punches. Work with your coach and record your practice rounds to ensure you don't get lazy on form as you grow tired during training. Many average fights would look much better in the closing minutes of a fight, had they throws smarter punches early in the match. Experience outlasts stamina in many cases through the simple use of proper form and technique. The old vet that knocks out the all-star newbie without breaking a sweat is a perfect example of how stamina of technique can beat all.
Fire up your muscle memory
The fibers of your muscle groups grow stronger as a result of use.   Each time you throw an exact, perfect punch, your fibers experience very small micro-tears. You go home, enjoy a protein shake, and rest and recover. When you return to the gym, the muscle fibers have regrown just a tad stronger in the key areas where those small tears occurred. This is how you grow stronger, and often bigger, provided you are boosting your caloric intake. These pathways develop very cleanly over time, assuming your are training wisely and consistently.   As the weeks, months, and years pass, each punch of kick becomes less and less efforted as your muscle fibers adapt to the common pathways taken while executing these moves. Train smart and consistently, and muscle memory will develop.
Cardiovascular training
The most common, and obvious, way to boost your stamina is to spend a lot of time engaging in cardiovascular exercise. This is a simple process which involves more action than thinking. By engaging in running, jogging, biking, elliptical machine, or another cardio training means, you create a rise in your heart rate above your resting rate. This, in turn, increases oxygen intake (absorption) by your body. Each workout should involve pushing yourself just a bit more than the last workout. Run a little faster or a little longer. Your body will stop adapting and improving once the cardio training becomes predictable.   Change up your movements and always work to do a little more work than last time. The increase in heart rate might not be comfortable, but it'll give you a much greater lung capacity as long fights wind down.
Boost muscle conditioning
To increase stamina, many fighters look solely to cardio and skill training. They completely neglect the fact that part of increasing stamina is making muscles stronger so they take longer to fail. Build your muscles using plyometric movements (such as pushups, situps, squats) as well as by lifting weights (utilizing such movements as bench press, squats, and deadlifts).   Any weak links in your body will be cured with full body training, hitting individual muscle groups as well as your core and larger compound movement support muscles. Muscle fatigue can be devastating in a fight. Build your skill, your lungs, AND your muscle if you want to win.
The last man standing isn't always the best fighter. The man with the best conditioning of the muscles, the skill, and the lungs, is the fighter with the best possible chance of emerging victorious. Target all key areas and always work to improve upon your last outing. The results will be phenomenal!