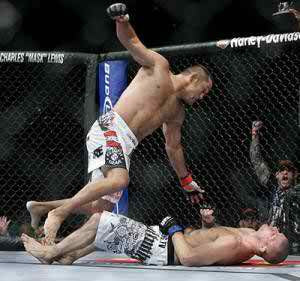 You're strong.  You're mean.  But you're just not as lean as you'd like to be.  In the past, having a little extra weight on your bones was a good thing.  You could use it to overpower your opponents in a match.  You could punch much harder, you presumed, because of your big, meaty "ham-hock" arm.  Sure, you were a little chunky, but that never stopped you from kicking butt, right?
Over time, you've developed your technique to a point where you don't need the added weight for punching or kicking power anymore.  You've raised your level of competition to the point where most of the people around you are lean – and you're not.  As you've improved, so have those around you.  And for the first time, you may be (or should be) coming to the realization that you should probably bring down your body fat percentage (the % of your total body weight that is fat) in order to move faster, change classes, and above all, remain healthy.
Never fear – You're an athlete.  You have a baseline of conditioning which is already at a good level.  You're already a calorie-burning furnace.  The goal now would be to manage a few factors regarding your lifestyle in order to turn your body into a fat-burning furnace.  Let's look at some steps you should take, as well as relevant factors to consider in your lofty yet realistic goal to become a ripped MMA fighter!
Find your starting line
First of all, you need to get honest with yourself.  Take pictures.  Weigh yourself.  Measure your arms, waist, chest, calves and thighs with a tape measure.  Take a body fat test if your local gym offers it.  You need to know just how fat you are, and just how out-of-shape you are, if at all.  Many physically fit people just carry too much fat.  It's not ideal, but it is something you can fix!  Record your current shape so you can plan your steps and really know when you've made it to that proverbial finish line (which will probably keep moving further away, as you meet more and more of your goals!)
Define realistic goals
Now that you know where you are, it's time to plan out just where you are going.   Write down a reasonable body fat % and scale-measured body weight that you'd like to achieve.  Remember, zero percent body fat means you're no longer among the living!  A measure of 4% body fat would place you as a world-class bodybuilder, in competition shape… certainly not ideal for MMA fighting!  You can be 8% and be an extremely ripped athlete.   An ideal goal for the fighter would be 10 to 12%.  You should have visible abs and some veins showing throughout your body, but you won't be in a deprived state where health concerns and overall body catabolism begin to affect you.
Cardiovascular training
Chances are good that you're already using running as part of your training regimen.  However, all-out sprinting doesn't do as much for fat loss as you might think.  Instead, you should be using moderate-paced treadmill, walking, elliptical and stepper machines to ensure you're giving your body low-impact, moderate-paced cardiovascular training to keep your metabolism purring and your muscle intact.  Cardio competed first thing in the morning is often most effective, since you will be using stored body fat for fuel, as opposed to later in the day when your body uses sugars from the foods you've consumed for the fuel needed to train.
Diet
Cut the carbs.  Cut the fats.  Up the protein.  It's really that simple!  You should rely on fruits, vegetables, pasta and rice for your carbohydrate intake.  Stick with almonds and fish oil for fats.  The leaner the protein source, the better when it comes to that macronutrient.  If you're getting a little leaner when you measure each week, then keep things the same.  If you're losing weight too fast, bump up your carbs a bit.  You'll still need carbs to train, so don't starve yourself.  Moderation is still the key to success – you just have to be a little more moderate then you have become accustomed!
Supplements
There is a wealth of over-the-counter, very legal supplements that you can use to curb appetite and deliver energy to you while you're in a calorie deprived state.  Some contain caffeine, which can lead to dehydration or the jitters, so be aware of these side effects.  Use supplements moderately and curb their use 1-2 days each week.  Never run fat-burning supplements for more than 3-4 months or your may become dependent upon them for normal, everyday function.  And don't forget your daily multi-vitamin!
Interval training
Whether you are training on the mats or with the weights, employing a strategy known as interval training is ideal for keeping your heart rate elevated and in a fat-burning zone, while completing the drilling and lifting you need to complete in order to sharpen and hone your MMA skills or maintaining your strength, respectively.  Complete one set, and then move to another set quickly.  Knock out 3 to 5 sets in this manner.  Then, allow yourself to catch your breath, but don't rest so long that your heart rate returns to normal.  As soon as you can breathe again, complete another 3 to 5 sets.  Your workouts will fly by, and you'll be enjoying cardiovascular training (leading to fat burning) which covering your training and strength bases at the same time!
More water!
Water allows our bodies to grow, function and perform.  It is an absolutely imperative part of who we are and what we do – and many of us aren't consuming enough of it.  If you're a reasonably successful MMA trainer and/or fighter, than you probably already know about the importance of water in stamina, strength, quickness, and most every other skill and performance ability you desire.  What you might not know is that while you're cutting weight, you actually need MORE water.  You're consuming less food, which means less water is coming into your body.  You're likely awake for more hours, leading to greater water amounts being expelled from your body.  If you're using fat-burning products or anything containing caffeine, then you're likely more dehydrated and certainly in need of more water.  If you're feeling thirsty, then you're already dehydrated.  Drink a gallon of water per day and you'll always be safe!
Analyze your sleep
A hard-training athlete should regularly enjoy 7.5 to 8.5 hours of sleep each night.  An athlete on a fat-burning cycle may need an hour less sleep, thanks to the presence of any stimulants and the fact you'll likely be hungrier earlier each day.  If you have some nighttime activities which are keeping you up late when you have to awaken early, then it might be time to analyze your goals and really decide what is most important to you.  If you wish to remain at 25% body fat and be a chubby fighter, then you should continue pizza and beer night with your buddies.  If you really place being a lean, mean punching machine higher on your list of priorities, then enjoy a protein shake and a diet soda with your friends, and then get home by 11pm to hit the hay.
Remove stress
Your body produces a stress hormone known as cortisol during time of insecurity, pain, and worry.  This hormone causes your body to conserve body fat, much like our ancestors did when a famine or winter was coming.  Thanks to modern food supply, you shouldn't have to worry about going months without food.  However, if you allow yourself to be negatively affected by stress, you'll likely end up holding on to more body fat (and burning up more muscle) than you would otherwise.  If you care about getting lean, then you should employ strategies to ensure you minimize stress factors in your life.  Yoga, meditation, or just plain removing those people, jobs, and other factors which are causing you to experience anxiety is the best plan for you.  Stress less!
Remember health
You should never forget that heath goals should always come first when making plans, training, eating, and measuring results.  You enjoy MMA training and competition, but it's only a part of your life used to enrich your overall well-being.  Without health, you have nothing other than being able to brag about being the toughest dude in the cemetery!   Always maintain regular doctor visits, exercise moderation with all things, and keep an eye out for little things that go wrong, and address them before them become big things.  Never allow your pursuit of fat loss to cause you to embrace extreme behavior which could result in you damaging your health – it's just not worth it!