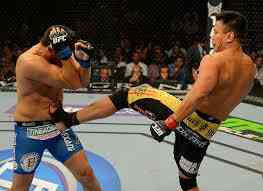 You're no spring chicken anymore.  You've been kicking butt at life, and on the mats for decades now.  You've seen the "up and comers" up and come, and go right back down.  You've been smart, trained hard and with moderation, and you've found mixed martial arts training and competition to be an excellent part of your life, enriching your health, delivering confidence, and helping you to maximize your potential in all areas of life.
However, with age comes change, and you'd be foolish to continue training in the same manner you employed as a youth.   Let's examine a few issues which should grab your attention when it comes to mixed martial arts as the months and years tick by.  You'll learn you don't have to abandon your love of mixed martial arts – ever – but that just a few adjustments to your methods and goals will help to ensure longevity in this sport you love!
Nutrition
First off, as your age, the food choices you make become more important than ever.  As a youth, you were probably able to eat just about anything you wanted, and still make some serious noise in the ring.   The foods you eat need to be more carefully selected as you age, however.  Your immune system slows, your testosterone drops, and the cartilage all over your body begins to weaken.  Despite your intense training style and "take no crap" attitude, you need to realize that Father Time is undefeated, but that by giving your body the right kinds of macronutrients (protein, clean carbohydrates, and healthy fats) and plenty of micronutrients (multi-vitamin, Vitamins C, B, E and a daily fish oil capsule) will help you to preserve much of your body's function for much longer.
Defining (and re-defining!) your goals
Early in your training and fighting career, you probably had one goal – WINNING.  Today, you might be more interested in success at work, at school, with family – but you still love mixed martial arts, and still love to train and possibly fight.  Therefore you should keep up your MMA habit – overall, it is safe, enriching and fun.  However, once you shift your overall goal from "winning at all costs" to "kicking butt in MMA – as well as in all other areas of my life", you'll have the cognizance required to adjust your schedule, training methods, and overall approach to mixed martial arts.  Balance is key!
Reasonable training
Most MMA fighters in advancing age will reduce their overall training volume.  They'll stick with 2 to 4 training sessions each week.  They'll choose a prime move for emphasis, knock out some strength training, then work on the move some more.  They'll start the workout with stretching, end the workout with stretching, and of course, use stretching between each of these sessions.  Breaking up the lactic acid and keeping your muscles limber and fully engorged with blood will go a long way in keeping you safe from injury.  You can't stop all injuries, but you can employ brief, moderate to intense training with plenty of stretching, in order to help improve your odds!
Increased recovery time
Ask any person over the age of 40 about recovery time.  Then, have a seat, grab some popcorn, and be ready for a ten-minute rant on what he USED to be able to do, versus what his capabilities are these days.  As we age, our bodies take longer to recover than they used to.  For this reason, many aging fighters (in their late 30s and early 40s) will drastically reduce their training time, often down to only two times per week.  They'll skip the 5-on-5 pickup games of basketball for cardio after training, opting for a brisk walk on the treadmill then a steam room followed with a steak.  You need to rest more to recover equally as the years pass.  The sooner you accept this fact and give your body the resources it needs, the sooner you'll make adjustments and continue making good gains.
To Fight or not to Fight?
You're slowing down.  You can't absorb blows like you used to.  Your recovery takes longer.  And you're at the point where you admit you may not be able to protect yourself as you were able to decades ago.   Now you have to look in the mirror and make a decision about whether or not you should continue fighting in actual matches.  You don't have to walk away from the sport you love.  Sparring and drills and training are still fine, and you can do these tasks every day on this Earth.  But there may come a time when you decide that an all-out standard MMA match just isn't in your best interest anymore.  That's okay!  You can still continue to learn, evolve, improve and enjoy MMA, without the actual competition.
Health vs. Performance
Above all, you should realize that you should use mixed martial arts to improve the quality of your life.  Even as a youth, MMA should never be the goal of your life.  Rather, it should be an interest, a sport, a career, that you embrace to increase and improve the quality of your life.  Train & eat responsibly, realize and keep your goals on track, and continue kicking butt on a daily basis as the years pass!