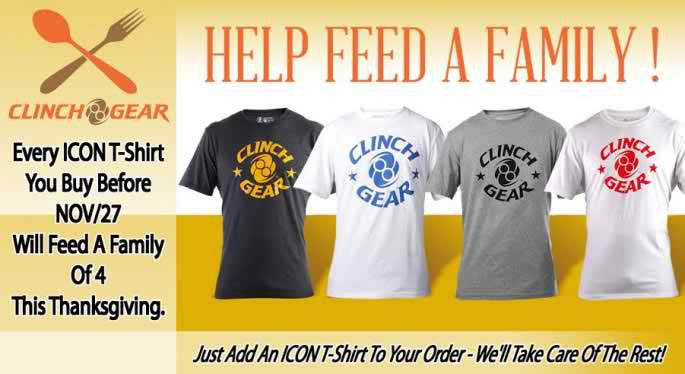 FOR IMMEDIATE RELEASE Clinch Gear10759 Woodside Ave Suite #ASantee, CA 92071

Contact: Jeff Brady

Title: General Manager

Phone:  619-749-8822

Email:    jeff@clinchgear.com
Clinch Gear Teams With San Diego Rescue Mission To feed Families In Need This Holiday Season!
Clinch Customers can help by purchasing Clinch Gear Icon Tees
San Diego, CA, NOV 15, 2014 – Clinch Gear™ (www.clinchgear.com), the leading performance training apparel brand, has today announced that it is teaming up with the San Diego Rescue Mission to help feed needy San Diego families this Holiday Season.
Specifically, for every ICON T-Shirt sold from now through Nov. 27, Clinch Gear will donate an entire Thanksgiving dinner meal, enough for a family of four, to the San Diego Rescue Mission.
"We did a similar campaign to feed families in need a few years ago," stated Greg Brady, COO of Clinch Gear LLC, "feeding close to 2000 families.  This year our goal and our hope is to exceed that number".
And goal achievement is what 'Clinch' Gear is all about. Founded in 2003, Clinch Gear launched with the aim to create the best training shorts in the world.  The incredible physical demands of high-intensity sports such as MMA and wrestling required shorts that could stand up to them. Later they expanded their product line to  include tech tops, rash guards, compression shorts, footwear and other gear.
A purchase of any Clinch Gear "ICON" tee will help this campaign to reach its goal.  The Clinch Gear ICON tee being used for this campaign features the Clinch Gear "ICON" Logo. Their proprietary fabrics are designed specifically to optimize moisture management and temperature regulation while also providing unparalleled support when being worn by elite athletes. Their clothing is tailor-made to withstand even the most intense training sessions.
So many families are struggling daily to pay for basic necessities, such as food, clothing and shelter. This is an opportunity for the Clinch Gear Team and its customers to help make a difference in the lives of many families over the Holidays.
For more information, visit http://www.clinchgear.com/.