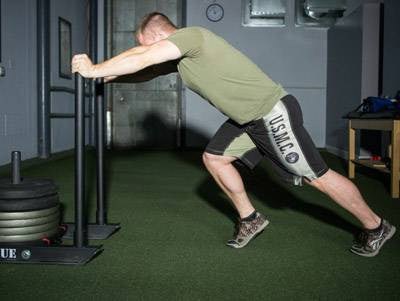 In order to become a successful MMA athlete, one needs to achieve excellence in several areas.  First, and most obvious, one must drill, spar and study in order to develop the technical skillset needed for MMA fighting.  Grappling, striking, and other disciplines are essential for simple function in the ring.  Without the skills, the fighter cannot step into the ring.
Outside of that, the physical conditioning of an athlete goes a very long way in determining just how much of this mixed martial arts skill one is able to demonstrate in the ring, and for how long.  When the body grows tired, the brain becomes tired as well, and the ability to properly plan and execute perfect strikes and other moves is radically impacted.  This is when, several minutes into a match, fighters begin to make mistakes – and stupid ones, at that.  Many athletes look back at video of them fighting and they wonder just who they are looking at.   In reality, they're looking at a weakened version of themselves that only emerges during long matches when their physical abilities of strength and endurance have failed.  Your job is to prevent this!
The wise athlete implements circuit training into their weekly gym protocols in order to develop both strength (anaerobic) and endurance (aerobic) capacity.  This makes the MMA athlete stronger, and capable of lasting longer in the cage before exhaustion creeps in, leading to a decline in speed, reaction time, and wise decision making.  And it makes the other guy gas out before you do!   Let's check out a great example of a two-tiered circuit training routine that is ideal for MMA athletes.  You'll train your upper body with four exercises, completed in a row three times for a total of 12 sets.  Then you will complete 3 circuit sets for lower body, consisting of 4 exercises each.
Circuit One:
Barbell Rowing                                  1 x 10 to 15 repetitions
Use a safe weight.  Keep your head up.  Move the weight slowly – no heaving is allowed.
Pull-Up with Static Hold                   1 x 10 to 25 repetitions (to failure)
Complete a pull-up, then hold and count to ten.  Repeat.  Use the assist machine only if absolutely necessary.  Within a few weeks, you should be able to complete your repetitions with body weight under your own strength.
Barbell Shrug                                     1 x 15 to 30 repetitions
Choose a moderately heavy weight. And slowly move that weight up and down.  Don't bounce the weight, and don't feel like you need to use 500 pounds here to see results.  Keep it safe and under control at all times.
EZ Curl Bar Hammer Curls              1 x 15 to 25 repetitions
Keep your back straight and let your arms do the work here.  No swinging.  "Body English" only puts the back to work and de-emphasizes the biceps and forearms, the point of this movement.
Circuit Two:
Barbell Squat                                     1 x 10 to 15 repetitions
Choose a moderate weight (135 is ideal for new lifters to the gym) and aim to reach or break parallel on every repetition.  You don't have to touch glutes to ankles, but these shouldn't be "power courtseys either!" Go low, and keep your back straight and head forward at all times.
Plyo Jumping                                      1 x 20 to 30 repetitions
Assume the squat position, then jump – as high as you can.  Repeat.  Watch for those around you, wear comfortable shoes, and stretch adequately before and after this movement.
Dumbbell Lunges                               1 x 10 to failure
This is a safe way to wrap up the tri-set for legs.  Choose a moderate weight.  When you cannot complete any more repetitions, drop the dumbbells and keep going using only body weight resistance.
Floor Crunches                                  1 x 30 to 100 repetitions (failure)
Your upper body and legs are toast, but your midsection has had time to recovery from Ciruuits #1.  Push your lungs on this movement!
These are standard exercises which can be completed in any commercial gym and should be serviceable in any decently equipped MMA training center.   This routine will train both your muscles and your lungs, employing plyometric and strength-specific metrics.  You'll torch your upper body first, then your lower body.  At the conclusion of this training routine, you'll hurt from head to toe.  However, you will have also effectively targeted all essential fighting core and support muscles from head to toe, while at the same time keeping your lungs pumping for almost a half hour straight, leading to aerobic progress as well.  Happy training!