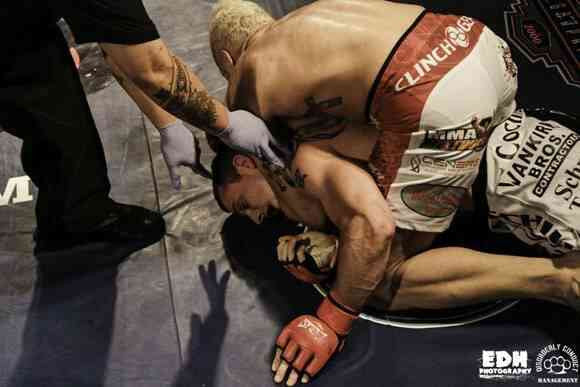 You train hard, and you fight hard.  But your body isn't a machine – it's an organic collection of systems which does possess a very great need for recovery from the rigors in which you impose upon it.  Let's check out some techniques you should be employing to give your body every possible advantage in bouncing back from training and competition in contact sports such as mixed martial arts and boxing.
Nutrition
This is perhaps the most important factor for recovery, and one which many athletes will simply overlook.  Nutrition is imperative when recovering from training, and extremely essential when you are recovering from fighting.  Your body is depleted of water, electrolytes, protein, carbohydrates and fats, and you need more of all of them.   Protein helps with muscle recovery.  Carbohydrates give you energy, and after a fight, as you are likely depleted a great deal.  Fats help your brain function and organs recover – useful when they may have received some external attention of the negative variety in the ring!  Eat plenty of healthy foods, drink water, take your vitamins, and really focus on consuming small meals every three hours.  The hours following a training session or match are particularly important – hydrate and refuel during this anabolic window for recovery.
Rest
Your body is going to require 7.5 to 8.5 hours of sleep on a nightly basis to recover from not only the rigors of regular life, but to the extreme training protocols you're enjoying as well.  After a match, plan for much more sleep.   Many a boxer has called in sick to their job at 8 AM after planning on fighting late and hopping up early in the morning as usual.  Plan a few days to heal and recover – always!  Keep in mind that sleep alone isn't the answer.  You should make time each day, whether napping or just closing your eyes and clearing your head for ten minutes, to force your body to recuperate resources.  Remember that the top fighters – MMA and boxing – in the world take their sleep as seriously as they take their training and nutrition.  You should do the same!  "I need my sleep" should be a mantra you use often!
Stay active
Just because you're taking a few days to rest and recover doesn't mean you should be sitting on the couch, doing nothing during that time.  Rather, you should engage in some light movement each day.  Some non-rigorous activity will break up the lactic acid stores in your muscle groups and loosen up the joints and tendons of your body as well.   Removing the toxins created from stressful training and stress is highly important, and moving around a bit will help you to do exactly that.  Stretch, walk, and even consider some light shadow boxing.  Nothing too strenuous should be used, of course, during this rest period.
Massage
You might not be a pro fighter, but you sure would like to be able to perform like one, right?  Most of them visit a professional massage therapist on a regular basis.  The reason is simple – they get way more miles out of their bodies!  Blood flow is stimulated, relaxation is achieved, knots in muscles are alleviated, and overall, the fighter just plain feels better.  Your muscles aren't a machine – they're very flexible and pliable, and small injuries can take years off of your fighting capacity.  Use a massage therapist to keep your body working well, recovering fast, and as an added bonus, you'll be able to stay on top of little injuries and "tweaks" as they arise.  Take a weekly inventory of your body during each session, and you'll be able to eliminate small problems before they become big problems!
Ice, Heat & Steam
As usual, the standard ice, heat and steam treatment go a long way in helping fighters to recover from tough training and matches.  Your bathtub works fine for ice baths if no professional option is available.  Ice baths flush out waste products from the body, while reducing inflammation as well.   Steam and heat work the same way, removing toxins and helping the athlete to release the stress that accompanies tough training and matches.   Vary your temperature to speed up your healing rate.
The faster you recover from soreness, the faster you can train again and fight again.  Many fighters will cost themselves years of fighting viability because they simply don't take care of themselves in this vulnerable and important time period immediately following damage.  Be smart.  Work to recover just as hard as you train and fight – you'll get way more miles out of your body, in and out of the ring!