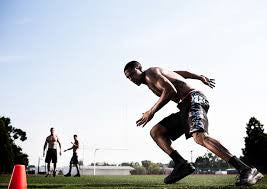 Three rounds.  Five minutes each.  One minute rest between each.  That's a total of seventeen minutes of your body working at near capacity when it comes to cardiovascular demands.  Some would say an MMA match feels like a 17 minute sprint (or a 29 minute battle, for title matches), coupled with being punched and kicked the entire time.    The importance of conditioning cannot be overstated for the Mixed Martial Artist.  Let's repeat that – The importance of conditioning cannot be overstated for the Mixed Martial Artist!
When fighting in an unorganized situation, the pray and spray, haymaker style of battling is just fine, as combatants are usually broken up after a few seconds.  In an MMA match, however, no such assistance is available.  You are on your own.  You're attacking, eluding, and protecting yourself while trying to inflict damage upon your opponent.   And those fighting skills are most important – this is an absolute.  However, conditioning is a very close runner-up for survival first, and victory second.   Let's take a look at interval training, a system of cardiovascular and strength preparations which can help you to develop the excellent conditioning required to not only survive – but also to thrive – during an MMA match.
Interval training, in general, is remarkably simple, commonly defined as "training in which an athlete alternates between two activities, typically requiring different rates of speed, degrees of effort, etc."   Interval cardio, for example, involves running for a minute, then walking for a minute.  Repeat.  Your heart rate stays fairly elevated from the running for the minute of walking – and just as you're about to drop rate, you begin running again.  This allows your body to experience a higher level of training than you'd be able to achieve with either running or walking.  Your muscles can recover during the walking phase, but your heart rate can remain elevated.
Now, we've all heard macho training mantras about "Training all out, all of the time!" and "Beast mode 24/7/365", but the truth is that this kind of training will quickly leave the athlete (in any sport, not just MMA), sore, exhausted and injured.  The human body has its limitations, and your muscles WILL break down if you train with 100% maximum intensity, all of the time.  This is why smart MMA athletes use interval training.
For the MMA athlete, interval training is useful and effective in all areas of training.  Let's examine three styles of interval training and their specific effects upon performance for the MMA athlete.
Interval training for improved fast twitch muscle fiber function
Explosion is very important in MMA fighting.   Athletes need an incredible amount of power in that first step, that first movement – and the development of fast-twitch fibers is imperative for reaching this goal.  Heavy weight + slow speed = safe and effective strength training.  Train at 70 to 80% of your maximum capacity (in any movement – running, mat drill or weight room exercise), then immediately cut down to 20% of your maximum capacity.  Repeat.
Interval training for conditioning
This is the most common and very much effective interval training, and one that many athletes use instinctively.  You're training to increase lung capacity here, without putting the wear and tear on your legs.  An example of this kind of training would be simple.  Sprint for 20 seconds, then walk for one minute.  Repeat for 30 to 45 minutes.  Obviously, your legs would never be able to maintain near-sprint intensity for 45 minutes, but your lungs are capable of maintaining near-sprint function for that time… so make them do it!
Interval training for explosiveness
Training for pure power is simple.  The strategies you use for this kind of training is actually similar to what is seen by the very bulky – albeit extremely powerful – powerlifting athletes.  The premise is simple.  Train at 100% maximum capacity for 6 to 8 seconds, then immediately halt ALL training for 120 seconds.  On some movements, you may need to extend this to up to 180 seconds.  Choose any exercise, and leave it all on the floor – then rest.
Mix up your training protocols.  Use interval training to help grow your body's conditioning and explosive power without wearing down your body.  This is a difficult sport in which to grow old gracefully, so you need every edge you can get.  Vary your training intensity and the result will be more powerful, better conditioned "you" that is capable of better performance for a longer period of time in mixed martial arts.