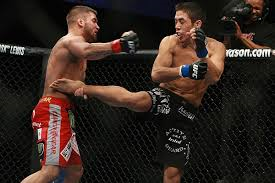 Mixed Martial Arts is a sport with a very bad reputation when it comes to injuries.  This might be due to the fact that most people just instantly associate fighting with blood and gore, or that the blood we do see in MMA matches is literally on the mat in front of us, for the duration of the fight.  There's no concealing the mess that sometimes comes with an MMA match.  However, the statistics and policies show MMA is a lot safer than most people think, and often safer than other mainstream sports.  And those injuries that are incurred can quickly be treated, and very often avoided.  Let's dive in deeper!
First off, let's dispel the notion that MMA is the most dangerous sport.  A five-year study of 1,270 MMA athletes by the Johns Hopkins University School of Medicine Department of Emergency concluded that the overall risk of sustaining a critical sports related injury was actually very low.  While almost a quarter of athletes in professional matches did sustain some sort of fighting injury, most were either minor lacerations of possible head concussions, requiring some observation.   MMA has had four recorded deaths.  Boxing has had nearly a thousand.  No sport is entirely safe – people are hit by golf balls – but MMA is much safer, according to the numbers, than many people believe.
One important statistic to remember is that most fighters at the higher levels only actually engage in 1 to 6 actual fights per year.  They are training 10 to 20 times each week, but mostly on drills in which the risk of an actual injury is near zero.  Yes, the in-fight numbers show about a fourth of the time you're going to need some treatment, but that's only a few times each year.  Compare that to professional athletes in sports like football and hockey, in which many players are injured in nearly every game, once or several times each week!
MMA officials have inserted many safeguards into matches to further keep the sport safe.  Aside from the obvious "no biting or eye gouging", there are slightly less noticeable policies in place that keep the fights fair and the athletes intact.  Weight classes are evenly matched.  Restrictions on technique ensure full-contact can only be employed once both participants have reached a desired level of expertise.  Younger and less skilled athletes are subjected to less risk.  Officials will stop fights at the first sign of any real injury.  Additionally, advancements in headgear, diagnosis, and other protection systems are arriving very quickly as the popularity of the sport continues to grow.
Above all, the mindset of the MMA athlete should not be overlooked.  Most people who compete in MMA began their sports lives in other sports, such as wrestling or boxing or martial arts.  They grew up disciplined, in tune with their bodies, and with a sense of respect and honor.  Look at a football game and it's likely you don't see that kind of discipline.  While linemen and defenders are on the football field trying to seriously injure each other, most MMA fighters are the first to hug when a match concludes, and would rather win on a quick submission as opposed to a long bloody battle ending with a knockout.  Fast, efficient fights between skilled and respectful athletes deliver plenty of safety and help with injury prevention.   Skill usually wins out over brute force.
The bottom line is that while MMA is a sport where there is going to be some damage incurred, there has been a great effort to make these matches as safe as possible.  The statistics show the risk of injury is much higher in other contact sports, and advances in rules and technology are making MMA safer for the athlete every day.