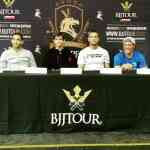 Hey guys!!
Had an awesome experience last weekend representing Clinch Gear at the 20th Year Anniversary of the BJJ Tour US Open!!
I had five fights and won four of them, all of which can be viewed here:
http://livestream.com/ghosthandproductions/BJJusopen , in the video marked 12pm-3pm and the one marked 4:15 pm.
I won my first match by 14-0, my second match by 24-0 and then in the finals I met with a good friend of mine and we decided to split the money and have a friendly sparring match for the cameras which I lost 12-7. In the absolute weight category (all weights together) I was winning by 20-0 before finishing with an armbar and then won my second match by 2-0 against a very skilled ultra-heavyweight opponent named Eliot Kelly who is a really good fighter as well as a really good guy and that match was probably the one I was most proud of winning. After that I came up against my same friend in the semi-finals and I let him go through to the final without fighting me to save his energy. He went on to win the final and take home the 2,000 cash prize.
It felt really good to be back on the mats after recovering from a rib injury that put me out of competing for two months. I spent a lot of this year injured, more than I ever have before, and now that I'm healthy again I'm working hard at making up for lost time! Next week I will be fighting in Las Vegas at the BJJ Tour Nevada which will be passing live Saturday November 14th on BJJTour.com and then the following week I will be fighting in the IBJJF New York Pro!!