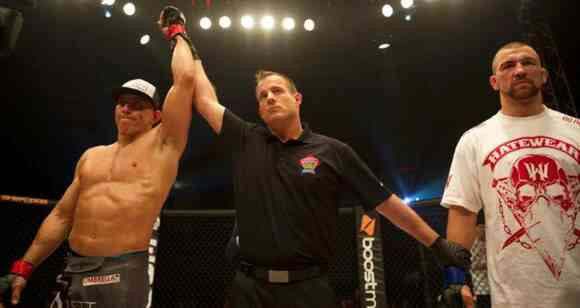 If you're going to be a boxer, then you're going to see a lot of pain and eventually, injury.   You'll dish it out, and you'll experience it on your own. What separates long-term successful boxers from those sidelined by injuries is sometimes luck, but more often, preparation and understanding. Let's check out five of the most common boxing injuries faced by fighters, and determine how they're incurred as well as how to diagnose and treat them.
Concussion
Head injuries are a big deal in sports these days.   Football may just be catching on, but boxers have paid close attention to concussions, or traumatic brain injury, for decades. Punches can travel at 20 mph, which can lead to some serious damage to the head in a match where this kind of contact is seen over and over.   During the very fast course of a concussion, the brain is temporarily displaced, which disrupts electrical activity for a very short time. Mental function is, of course, disrupted.   This leads to confusion, loss in memory of vision, and headache.     Avoid head injuries whenever possible – but when they do occur – you need to take action.   Start by applying ice to the head, every 2 hours for 20 minutes. take paracetamol for pain management (and not a NSAID) in order to reduce any chance of bleeding. Rest, avoid alcohol, and give it time. Consult a physician if symptoms persist. You'll be out of the ring for at least two weeks in order to give the head time to recover.
Lacerations & Cuts
When you use your hands to punch, you always run the risk of breaking the skin. This usually happens when the hand comes in contact with the opponent's head or glove, and is usually not a big deal during a fight.   These cuts are usually to the hands, but can also happen to the head, which can have a variety of results during a match.   Wearing protective headgear is a good way to avoid lacerations and cuts. One can prepare the skin for cuts, and often avoid them altogether, by using oil or lotion to keep the often-struck face and hands soft and supple. Cuts are treated with petroleum jelly during the course of a fight so that the action can continue. After the match, the area should be immediately cleaned in order to avoid infection. Damaged skin is removed and at worst case, tape, glue or even stitches will be used to close any wounds which are still open. Healing is almost always a smooth process, provided the area is cleaned properly and dead skin has been removed. Scars may remain only in the worst cases of lacerations.
Boxer's Fracture
Small breaks in the hand located at the "neck" area of the hand, or the region below the knuckle in the 4th or 5th metacarpal is known as a Boxer's Fracture. If you are punching and experience instant pain and hand swelling and that area of the hand becomes sensitive and tender, this may be a sign of a Boxer's Fracture. The skin may bruise or change colors and you'll have some difficulty when trying to move the injured fingers. Learning to simply deliver punches correctly will help you to avoid facing the Boxer's Fracture, as well as consuming a diet rich in calcium and dairy to keep your bones as strong as possible. A Boxer's Fracture is nothing you can deal with at home – you should immediately see medical attention for X-Rays to diagnose the injury. You'll likely spend 6 to 8 weeks out of action, and perhaps lose a bit of grip strength in the long-term as a result. To avoid incurring Boxer's Fracture, avoid hitting objects with no "give", such as walls. Use hand therapy balls and strengtheners to help protect the hand as well.
Carpal Bossing
If you see a lump forming on the back of your hand, then you may facing a case of Carpal Bossing.   Seen mostly in adults aged 20-35 years old, this condition is caused after a bum or knock to the back side of the wrist. A swelling and prominence occurs as new bone is produced to compensate for arthritic thinning in the lining of the cartilage.   To avoid Carpal Bossing, try to avoid knocks to the back of the hand.   Use protective gear (16 oz wraps are adequate) while boxing to keep the hand from taking these knocks. Obtaining adequate rest helps a great deal – overuse of the area can lead to cartilage thinning. Use ice or cold therapy to reduce inflammation following workouts.   Minor Carpal Bossing is treated with ice and rest. More serious cases will force you to wear a wrist brace for a few days. The most advanced and untreated cases lead to surgery, completed in one day and usually successful for full recovery.
Shoulder Dislocation
Any sport in which the participants incur heavy hits to the body will result in shoulder dislocation from time to time. The shoulders have the greatest range of motion of any joint in the body and are thus most susceptible to injury. This can be extremely painful and results in loss of movement in the shoulder area.   The shoulders will appear squared off instead of rounded, as they usually appear. While many of us may have seen movies where boxers quickly fix a dislocated shoulder by hitting a wall of being pushed quickly, this should NEVER be attempted.   Seek medical assistance immediately.   Home treatment of a shoulder dislocation can go wrong, leaving you with a lifetime of pain and long-term damage.   Let the doctor set the shoulder straight. You'll be in a shoulder sling/support for three weeks. Spend a few months strengthening the area with resistance bands and you'll return to full strength.
If you box, then you are going to get knocked around and banged up. However, if you are cognizant of the most common injuries and "dings", and willing to devote the necessary time and attention to treat them, they won't hold you down for long. Good luck!